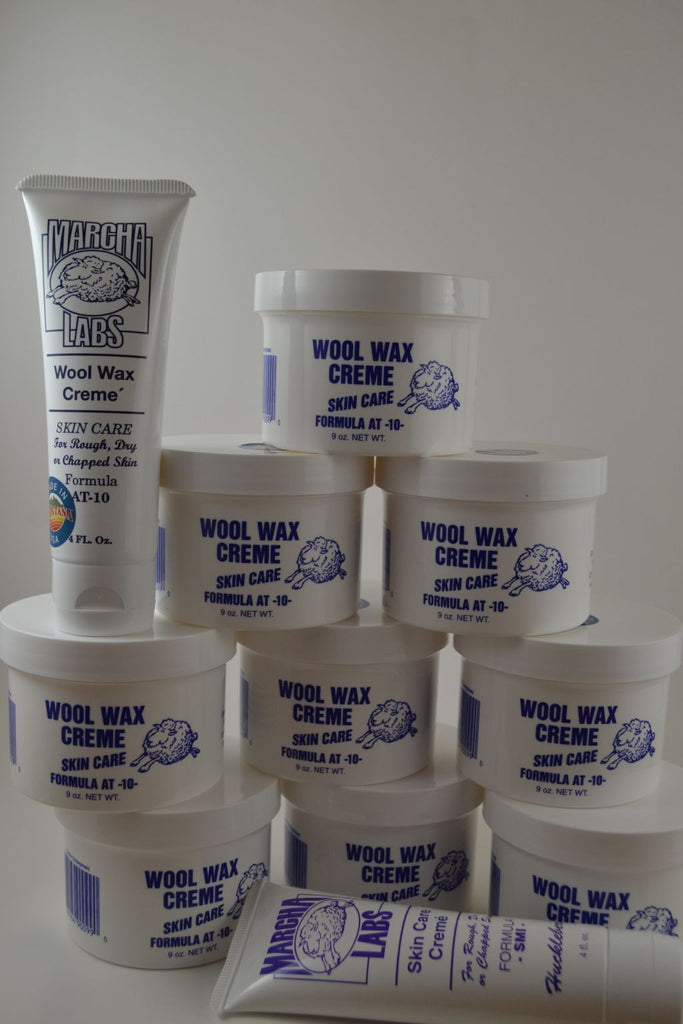 Buy 9 nine ounce jars and 2 squeeze tubes Wool Wax Creme
$ 83.78
When choosing skin care lotion, be sure to know your ingredients.  Lanolin is a natural by-product of wool and is not derived from chemicals or ingredients you would not want on your skin. Wool Wax Creme in proudly made in Montana.  We use Wool Wax Creme ourselves and know from personal use how wonderful this is. With Montana's harsh winters we understand how the skin can take a beating and needs the moisture replenished.  Wool Wax Creme does what is needed and never disappoints.  While every area has its unique climate issues, Wool Wax Creme can help all who use it.  Buy 9 nine ounce jars and 2 four ounce squeeze tubes Wool Wax Creme and it all fits in the same flat rate shipping box!
The nine ounce jars come in the regular scent and fragrance free.  The squeeze tubes come in the regular scent, fragrance free and huckleberry scent.
Made from lanolin, this Wool Wax Crème helps prevent chapping and heals rough, dry skin. Non-greasy, hypoallergenic. Provide relief with this heavy-duty skin treatment. The cost of the Wool Wax Creme is $66.68. The total price includes the shipping cost of $17.10.