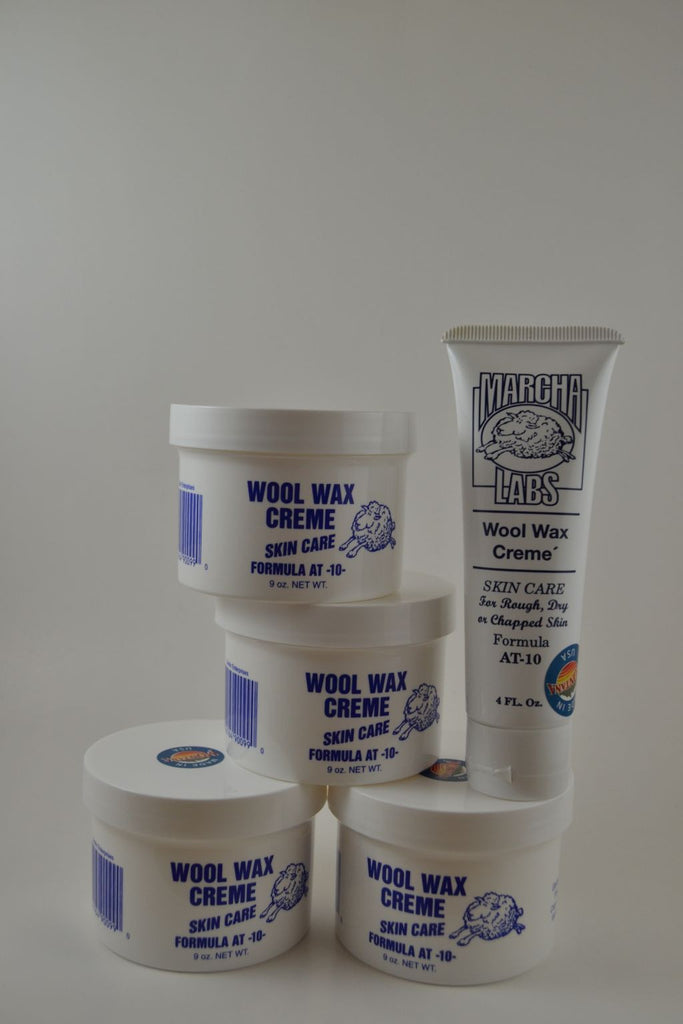 4 Nine ounce jars & 1 squeeze tube Wool Wax Creme
$ 47.30
 Because Wool Wax Creme contains lanolin and has a waxy appearance (without the waxy feel) the product was called Wool Wax Creme.  "Formula AT-10" was added to the name of the skin cream to signify that this was the tenth attempt to perfect the formula. Besides lanolin, Wool Wax Creme contains emollients and emulsifying agents.  Don't hesitate to give this a try if you have not experienced the wonderful uses for this skin cream.  Our return customers believe in this as much as we do! Buy 4 Nine ounce jars & 1 squeeze tube Wool wax Creme.
The nine ounce jars come in the regular scent and fragrance free.  The squeeze tubes come in the regular scent, fragrance free and huckleberry scent

. If you do not specify I will send the regular scent. Made from lanolin, this Wool Wax Crème helps prevent chapping and heals rough, dry skin. Non-greasy, hypoallergenic. Provide relief with this heavy-duty skin treatment. The cost of the Wool Wax Creme is $30.20. 

The price includes the estimated shipping cost.  If the actual shipping is less, I will refund you that amount.