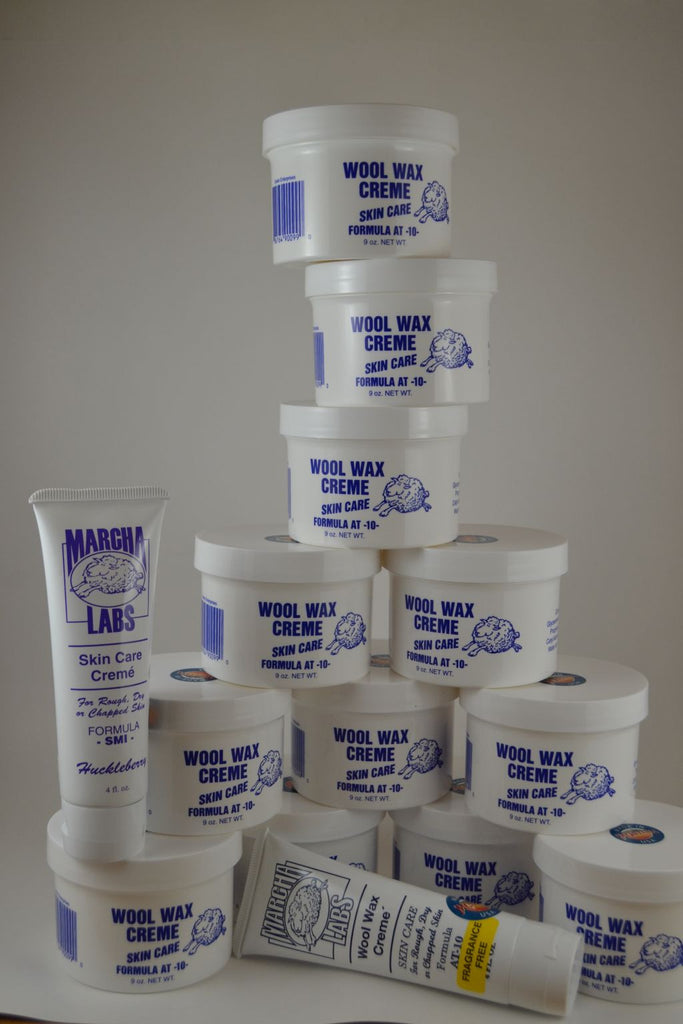 12 Nine ounce jars and 2 squeeze tubes Wool Wax Creme
$ 102.62
Wool Wax Creme is made by Marcha Labs who are based on a family ranch in Montana. You can count on products made in the U.S.A. Enjoy Wool Wax Creme in a variety of sizes: 2 ounce jar, 4 ounce squeeze tube and 9 ounce jar (which is the best value). You can never have too much of this fabulous lotion.  Wool wax Creme makes an excellent gift for new parents, co-workers, family, friends, neighbors and anyone who is in need of a fabulous lotion for their skin. For those who have sensitivity to scents, we offer Fragrance Free in the 9 ounce and 4 ounce squeeze tubes.  The regular scent and huckleberry scent are a light fragrance and very pleasing to the nose.  A great way to save on shipping. Buy 12 Nine ounce jars and 2 Squeeze tubes. A great combination of Wool Wax Creme.
The nine ounce jars come in the regular scent and fragrance free.  The squeeze tubes come in the regular scent, fragrance free and huckleberry scent.
Made from lanolin, this Wool Wax Crème helps prevent chapping and heals rough, dry skin. Non-greasy, hypoallergenic. Provide relief with this heavy-duty skin treatment.  The cost of the Wool Wax Creme is $85.52. Shipping cost of $17.10 is included in total price.